I love me some loaded baked potatoes. Loaded baked potato soup sounds even better! The original recipe (that can be viewed
here
) says this tastes like Outback Steakhouse's loaded baked potato soup. I can't vouch for that as I've never had it, but nonetheless it is so yummy and VERY easy!
Ingredients:
1 - 30 oz bag of frozen, shredded hash browns (I used Ore Ida)
3 - 14 oz cans of chicken broth
1 can of cream of chicken soup
1/2 onion, chopped (I omitted this one because John doesn't like onions)
1/4 tsp ground pepper
1 pkg cream cheese (do not use fat free ... it won't melt!)
Directions:
In a crockpot, combine everything except the cream cheese.
Cook for 6-8 hours on low.
About 1 hour before serving add the cream cheese and keep heated until thoroughly melted. I will give you a tip on this one ... cream cheese doesn't melt easily whether you use fat free or regular, so I had to turn the crockpot on high and it took more like 1 1/2 hours to melt completely. Just sayin'. ;)
Serve with whatever you like! Pictured below I have grated cheddar cheese, real bacon bits and green onions. I would have also added sour cream if I had some on hand.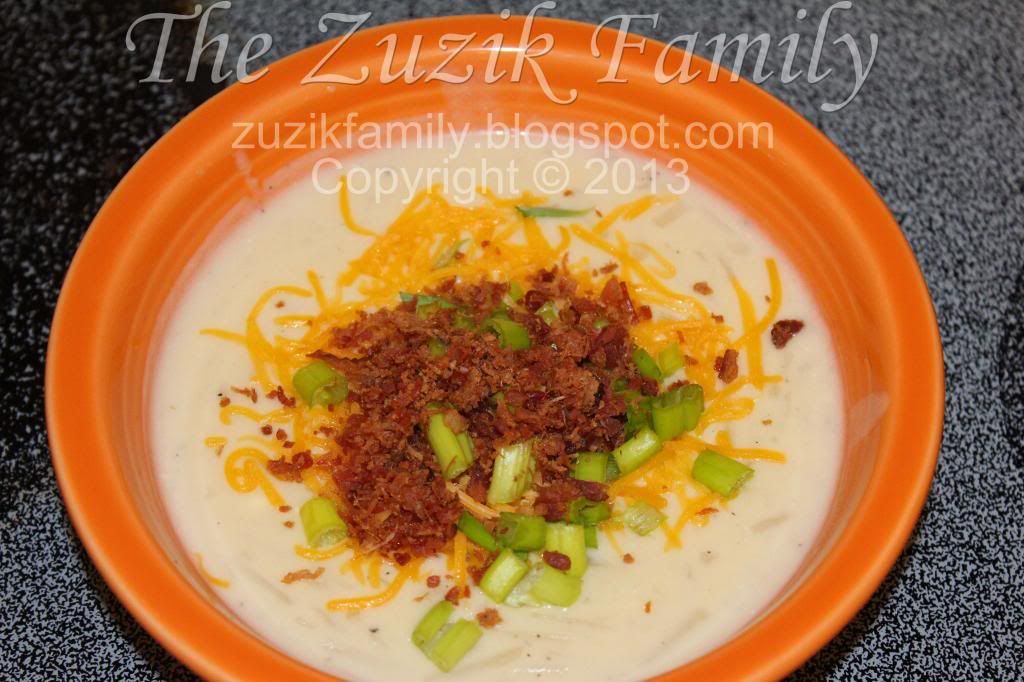 ENJOY!