Four years ago, on this day, my little sister married her best friend and love of her life. On a day that is also our mother's birthday, so it was a doubly-fun day! I was dancing the night away with my husband and everyone was fawning over little Jacob (he was only 16 months old at the time).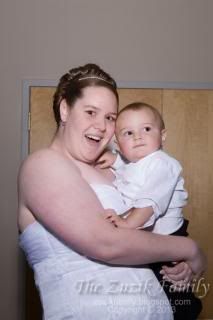 It's crazy how much life can change in just a few short years. But, for now, I just want to remember what a magical and happy day that was. :)
We started the morning off getting our hair done at Ashlee & Mike's apartment. I absolutely LOVE the way my hair turned out!!
Once we were done with our hair and make-up, the limo picked us up and we headed to the church to get dressed and do some pre-wedding photos with Ashlee's CRAZY photographer! haha
We were running short on time, so almost immediately after we finished photos it was time to start the ceremony ... it was absolutely stunning. Here are just a few of my favorite photos from that day.
The reception was just as magical and beautiful as the ceremony. We ate, danced, some drank (not me, I had a 15 month old to deal with!) and had a wonderful time celebrating the marriage of Ashlee and Mike. I had so much fun helping her pick a dress and planning her bridal shower in the weeks and months leading up to their wedding. It was kind of bittersweet that it was all over in the blink of an eye.
Have you ever seen a more beautiful bride or a more in love couple?!
Ok, so their photographer might have been "crazy", but she did an awesome job on their photos. :)
Anyway, I'm so glad I was there to celebrate with them. I wish Ashlee were still here to celebrate with Mike this year, but I know she's smiling down on him this year, this day ... and every day. :)