For me, Valentine's Day and Mother's/Father's Day are the two holidays throughout the year that I feel like a non-store bought gift (meaning, one that has a lot of thought and effort put into it) are most appropriate. I feel like for these holidays I'd much rather receive something that came from the heart, then the mall. Soooo, with some inspiration from a few friends and pinterest, the kids and I came up with the following "Best Dad" painting. I put quite a bit of work into and the kids had fun placing their handprints on it, and the best part of all ... daddy loved it!!
Supplies:
1 canvas (this one was 16"x20")
sponge brushes
cobalt blue paint (for the background)
gray paint (for the letters)
royal blue (for the little hand prints)
letter stencils (cause I'm just not good enough at freehand painting letters!)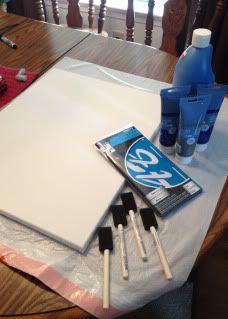 I ended up putting 5 coats of the cobalt blue on before I did anything else. It took me a few days to get that part done (and then I screwed up the letters, and had to start over, which is why he didn't get it until today). The next part was stenciling on the letters, which again took a bit of time because I had to do a letter and then let it dry (about an hour or so per letter). After the letters were all finished, then came the handprints. If I hadn't been so paranoid about getting paint all over my furniture I'd have snapped a picture of Henry, for sure. This was his first real art project, and he just didn't know how to react to all the paint on his hands. He ended up pretty much needing a full bath when we were done. His handprints are on the right, and Jacob's were on the left. Jacob did his like a pro. He lives for these types of art projects! I can't wait until we're moved somewhere with a yard, so we can get outside and do a lot more painting projects!
Here's the finished product! (Please excuse the quality of the picture. It's a cell phone picture with bad lighting and instagram touch-up. lol)
Our plan was to make this for daddy, so he could hang it on the wall in his office at work. I hope he actually does!!