So, last year I had planned to read one book a month. To some people that might not seem like much, but I can't seem to fit the time in to read, and it's something I really like to do, so I've been trying to make a conscious effort to do so. I only got through 9 books last year, so this year I've set the same "challenge" for myself. And, I just finished book number 1!
Hannah's List - by: Debbie Macomber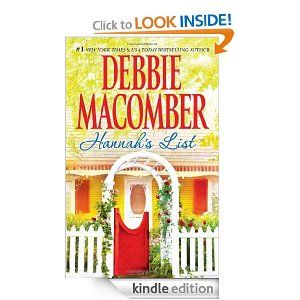 On the anniversary of his beloved wife's death, Dr. Michael Everett receives a letter Hannah had written him.
In it she reminds him of her love and makes one final request. An impossible request. I want you to marry again. She tells him he shouldn't spend the years he has left grieving—and she's chosen three women she asks him to consider.
First on Hannah's list is her cousin, Winter Adams, a chef who owns a café on Seattle's Blossom Street. The second is Leanne Lancaster, Hannah's oncology nurse. Michael knows them both. But the third name is one he's not familiar with—Macy Roth.
During the months that follow, he spends time with these three women, learning more about each of them…and about himself. Learning what Hannah already knew. He's a man who needs the completeness only love can offer. And Hannah's list leads him to the woman who can help him find it.
I started reading this book right after John's surgery back in October, and right BEFORE my sister passed away suddenly. For the first month after she passed away I couldn't really read this too much since it was about death (sort of). Then I started to get in to it more over the next month. I'm just a slow reader, in general. I lose interest and have to put it down and come back to it later. This happens even with the most interesting of books. I'm working to change that, though. I'd love to read more!
Anyway, this was a pretty interesting read, I just wish the endings weren't so darn predictable!