On Friday we took Henry in for his 4 month well baby visit. He's growing like a weed! He was 7lb 8oz at birth and now weighs a whopping 15lbs 4oz. He was 21 inches at birth and is now 25 inches. The poor little guy had to have two shots and one oral vaccine, but he did really well with them. Only cried for a second and this time I was able to hold him through the whole thing which made me feel better. I hate that he has to go through that, but I'd rather he have the vaccines than not.
It's crazy how fast they grow! Here's a picture of Henry when he was 10 days old.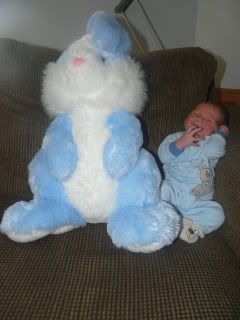 And, here he is at 4 months! I can't believe how fast the time is flying by!