Hard to believe that our little 4lb 11oz-er has gone from this ...
to this ...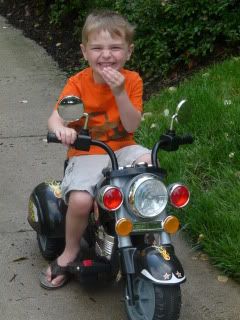 Jacob's 4th birthday was on May 9, 2012. I've put off writing this post because I wanted to wait until we had been to the pediatrician for his check-up. Well, we went today, and it looks like our little Bubba is developing right on track. He's doing all the normal, annoying things four year olds do. lol
We celebrated his birthday with my parents ON his actual birthday. We had dinner at Friendlys and then came back to our house for cake and presents. We got Jacob the Leap Pad by Leap Frog. He's only played with a few times, but from what I can tell, he really loves it! My parents got him a battey operated motorcycle which he loves. We've already taken it out on quite a few different walks through the neighborhood.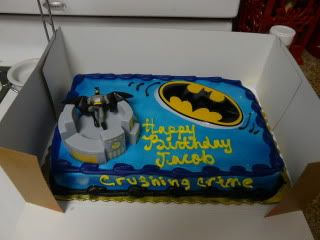 This past weekend John's parents came down from PA with Josh (our nephew), and our soon-to-be sister-in-law, Jamie, came down with Aubree (our youngest niece). Uncle Jason (John's brother) and Aunt Dana (John's sister) had to work, so they were unable to come. We missed them alot!!
Anyway, they all got down here on Friday evening, and on Saturday we got up and drove two hours away to Massanutten Resort where they have this AWESOME indoor water park. The last time we were here Jacob was about Henry's age, and I was barely pregnant with Henry. Henry was a real trooper. He went most of the day and really played hard in all the different water areas ... he even went down a few of the slides and rode around on the lazy river with John and I alot. We kind of knew he would react that way, though, after all he's our waterbaby!


Jacob's a little more cautious, but he loosened up and was able to have a blast too. I think he was super happy to have his cousin, Josh, with him.
After the water park we had dinner and then came home where Jacob opened a few more presents.


Jacob Phillip is growing into such a little boy right in front of our eyes. He's a fun-loving, caring, sweet, funny, independent little man. He loves pretend play (restaurant and doctor are two of his favorites), doing art projects, singing, dancing and putting on shows. He loves cuddling with his mama, wrestling with his brother and playing sports or doing anything boyish with his daddy. Speaking of boyish-daddy things, Jacob and his daddy actually just recently went on their first camping trip together. From what I hear they both had a blast!!
One thing I wanted to start doing with our kids (and I probably should have started this last year for Jacob, but I didn't think of it then) is having them answer 20 questions every year on their birthday to see how the answers change from year to year. Below are Jacob's answers from his birthday this year. Next year we can compare to see how they've changed!


1. What is your favorite color? Blue
2. What is your favorite toy? Fire Truck
3. What is your favorite fruit? Apples
4. What is your favorite tv show? Team Umizoomi
5. What is your favorite thing to eat for lunch? McDonalds
6. What is your favorite outfit? Army shorts
7. What is your favorite game? Mickey Mouse for Mobigo
8. What is your favorite snack? Fruit Snacks
9. What is your favorite animal? Horses
10. What is your favorite song? The Fresh Beat Band song
11. What is your favorite book? Clifford
12. Who is your best friend? Jack
13. What is your favorite cereal? Cap n Crunch
14. What is your favorite thing to do outside? Play in the water table
15. What is your favorite drink? White milk
16. What is your favorite holiday? Christmas
17. What do you like to take to bed with you at night? Care bears
18. What is your favorite thing to eat for breakfast? French Toast Sticks
19. What do you want for dinner on your birthday? Cake
20. What do you want to be when you grow up? Fire Fighter and an EMT (or, ambulance driver as he puts it, lol)
And, to close out this post all about my first baby boy, I'll leave you with his stats from today's doctor's visit, he's growing perfectly!

Height - 40 inches (50th% - 75th%)
Weight - 37 lbs (50th%)
Vision - 20/20


Way to grow, Jacob!! I can't wait to see what the next year brings!