This was my mom's first Mother's Day without Ashlee, so I felt like my main goal for the day was to keep her mind OFF of that one aspect. I think I did okay. We had plans for both days that weekend (one day was our Mother's Day plans and one day was Jacob's birthday plans), but we had to wait until we saw the weather forecast before we could make definite plans. The weather ended up being nicer on Sunday (Mother's Day), so we did Jacob's birthday stuff that day and on Saturday we did our Mother's Day stuff.
So, anyway, on Saturday my mom and I went to
Spa World
and just hung out and RELAXED. Something I think we both needed. I ended up relaxing so much I fell asleep. lol I can't even remember what we did for dinner that evening, but I know I didn't cook or clean up from it, so that's all that really counts. Sunday, we did Jacob's birthday stuff, but we were still celebrating Mother's Day some too. Confused, yet?? haha Anyway, we went down in to DC to play tourist for the day. That's always a fun thing to do especially when you live in the area you're touring! It was such a cold day outside, but the sky was clear and I was able to get some really great pictures! We bought tickets for one of the double decker tour bus lines. Those are so great because you can just hop on and off when you want.
I was able to get some really great photos of the Capital building from the top of the bus! Aren't the buildings in our Nation's Capital so beautiful?!
The first stop we got off at was for the National Mall right by the Washington Monument. The Washington Monument ended up being under construction STILL from the earthquake we had almost 2 years ago, so we just took some quick photos and then hopped back on the bus to continue on to our ultimate stop ... the Lincoln Memorial!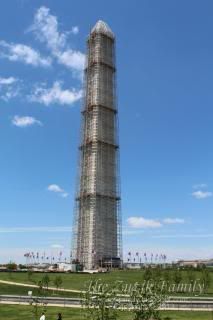 The Lincoln Memorial! We've finally arrived!! Or, as Jacob calls it "the Inklin' Memorial". hehe too cute! Anyway, the boy is obsessed with the Presidents, especially President Lincoln. He was in Heaven getting to see the giant statue of him ... he talked about it for weeks after!
Here's another view of the Washington Monument looking from the Lincoln Memorial. Very pretty, if you ask me! Oh, and a cute little duck family we saw swimming through the reflecting pool. :)
This statue of Albert Einstein might possibly be my favorite thing we saw all day! There is a galaxy on the floor in front of the statue and if you stand directly in the middle it is said that you are in the middle of the Milky Way. Also, when you talk you can hear it echoing, but no one else can. It's so neat!! We all took turns listening to our echos!!
After we were done with all this, we hopped on a bus and headed over to Arlington National Cemetery. We would have gone to visit John's friend who is buried there, but oh boy would that have been a lot of walking! We did, however, stop by JFK's grave and that of Jackie O. and their two young children.
And, finally before our day was over we stopped by the White House to take a quick pic.