First let me say that I am just in shock with how fast the past two years have gone! It feels like Jacob JUST started preschool at St. Timothy's Preschool, and now he's a Preschool graduate!! My little baby is growing up before my eyes and I don't like it one bit!
At the end of May, Jacob's teacher held a preschool graduation for his entire class at a nearby park. It was such a fun time and so cute to see him with all his classmates! I am so sad that he won't be at the same school as all his little guy friends next year, but he will at least know two of his classmates ... two of the little girls in his class from St. Timothy's, Katie and Nina, are both going to be attending Dranesville Elementary with Jacob in the Fall.
We were one of the first families to arrive at the park, so the boys got busy playing while we waited for everyone to get there.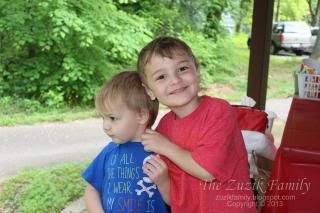 I love this cute table and all the fun stuff Jacob's teachers had set up there for the "Red Star" class. :)
Before the teachers got started handing out their diplomas we all made sure to say the Pledge of Allegiance.
Then came the time to hand out diplomas. It was the cutest thing ever, and I may or may not have teared up. :) Miss Jamie called each child up individually and asked them a series of questions (where are you going to school next year? what was your favorite thing this year at St. Timothys? what are you most looking forward to next year at your new school? - stuff like that). It was just so cute and so fun to see how each of them acted with Miss Jamie and how they answered her questions. Had I blogged about this right after his graduation I might be able to remember the answers to his questions, but I cannot. :( Anyway, here are some photos of him with Miss Jamie. How cute is my guy?!
And, of course I had to get a photo with my guy and just look how proud he is of his diploma!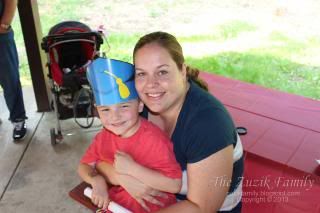 And, here are some "last day of school photos" cause the last day is just as exciting (if not MORE exciting)
s the first day!