Today John came home from work early and took Jacob out to the pool, so I used the quiet time to make some 4th of July treats!
4th of July Pretzel Rods
Pretzel Rods
Milk Chocolate Chips (I was going to use White Chocolate Chips, but didn't have any on hand)
Red, White and Blue sprinkles
Melt the chocolate over the lowest heat possible. I added a splash of milk to make the chocolate a little thinner/runnier. Stir occasionally until completely melted and smooth.
While the chocolate is melting, pull all the whole pretzel rods out and set aside. Also, dump all sprinkles into a shallow bowl or on a plate (I used a plate).
Use a spatula to smear a thin layer of chocolate on each pretzel rod and then rolled it around in the plate of sprinkles. Let them dry on wax paper for an hour or so. So yummy, and so easy!!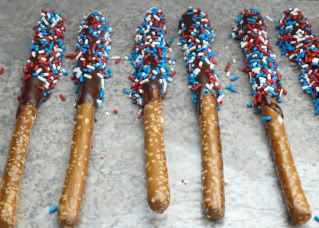 And, when I ran out of red, white and blue sprinkles (note: buy a LOT of sprinkles, you WILL go through them fast!) I decided to use up other sprinkles I had, so we also have some multi-colored pretzel rods. lol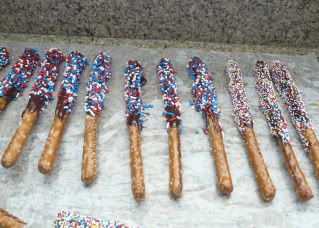 And, THEN ... I made some small ones from the broken pieces for the small guys in our house. :)