I'll be completely honest and tell you right now that I was NOT looking forward to yesterday. I've been having numerous breakdowns for weeks about this one day. My first Christmas without my little sister. We never actually got to see each other ON Christmas (in our adult life, that is), but we at least got to talk to each other and exchange gifts at a later time (usually around New Year's). So, needless to say, I have just been dreading the day. Thankfully, yesterday was not that bad. I got a little sad here and there, but overall I felt pretty good and definitely was able to keep it together in front of everyone else. There was one point when my step-dad was giving my mom her last gift, an angel charm in honor/memory of Ashlee for her Pandora bracelet, that all three of us got teary-eyed. But, we did so good, so for that I'm super-duper proud of us! (Of course now that I'm typing this out, tears are coming to my eyes.)
Anyway, Christmas Eve is actually my favorite day of the whole holiday. There is just something so special and magical about the night before Christmas. So, on Christmas Eve every year, my parents come over to our house, we cook up a bunch of appetizers, eat together and then open some gifts - usually ornaments for me and the kids from my parents, and new matching Christmas pajamas to the kids from John and I. This year we let the kids open a few extra gifts from us because from past experience it always tends to take them a pretty long time to open their gifts from Santa the next day. I didn't want to add more packages to what they were already going to be opening. All the gifts we give the kids every year are just clothes. Boring ole clothes. Santa brings all the fun gifts!
I tried to get some cute pictures of the boys in their matching PJs in front of the tree, but Henry seemed scared of it, so I didn't push the issue. Jacob cooperated with me for a few pictures, though ...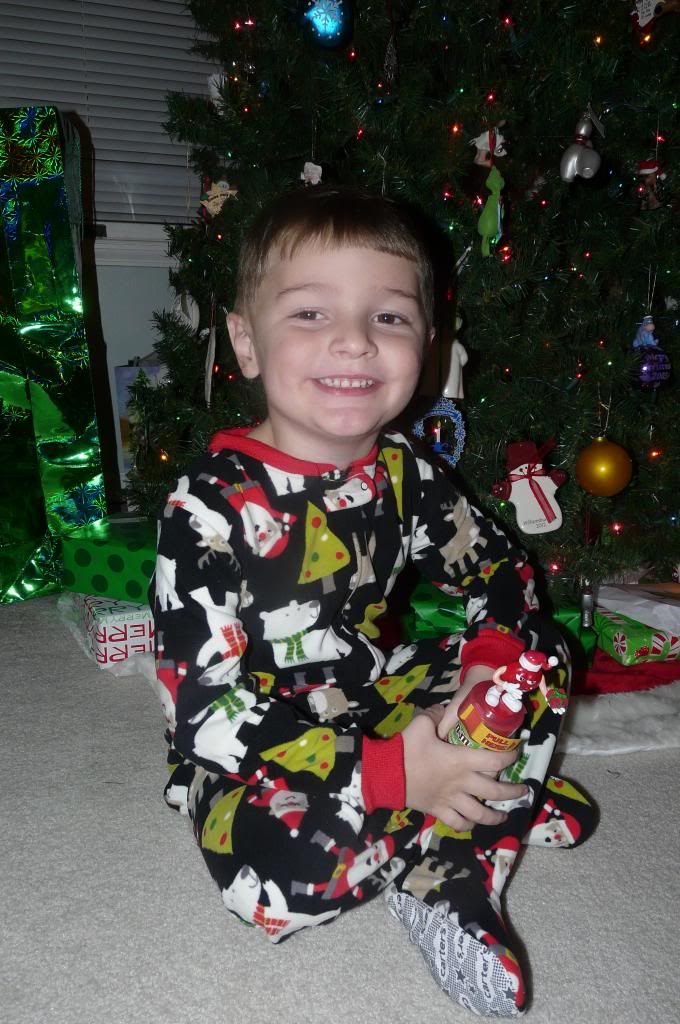 And, I was able to get a cute one of both the boys with my mom ...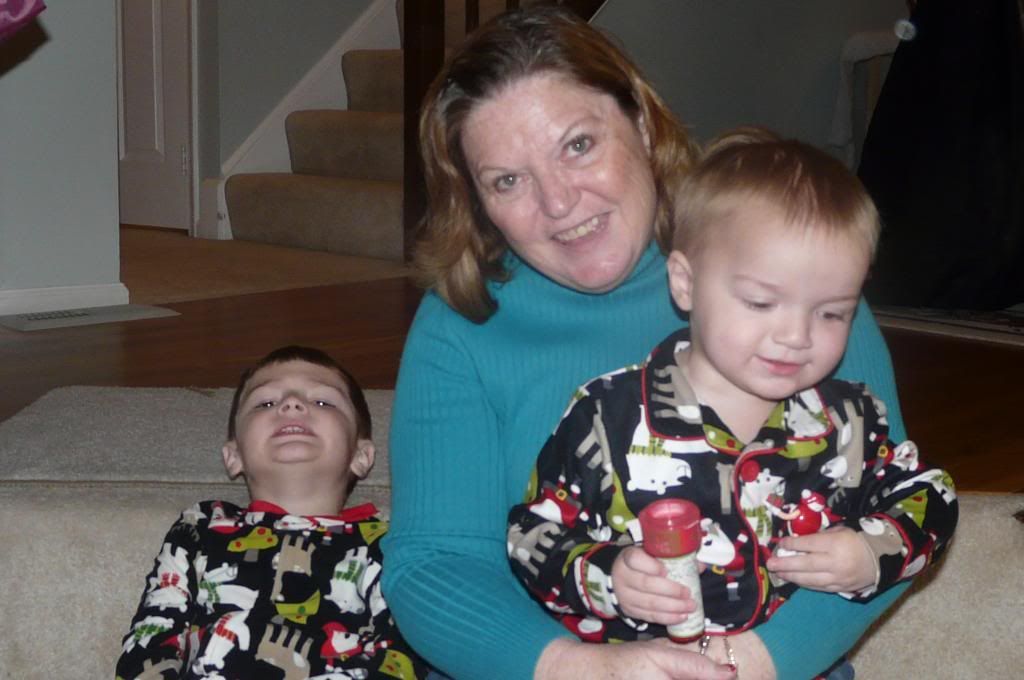 After they were done eating and opening gifts, Pap read them "The Night Before Christmas" like he does every year. It's been a tradition in our family since I was little, so it's important to me that we carry it on with our kids.
Then we left out some cookies and milk for Santa, and apples for his reindeer (I totally forgot to buy them carrots, so I'm assuming they eat apples, lol)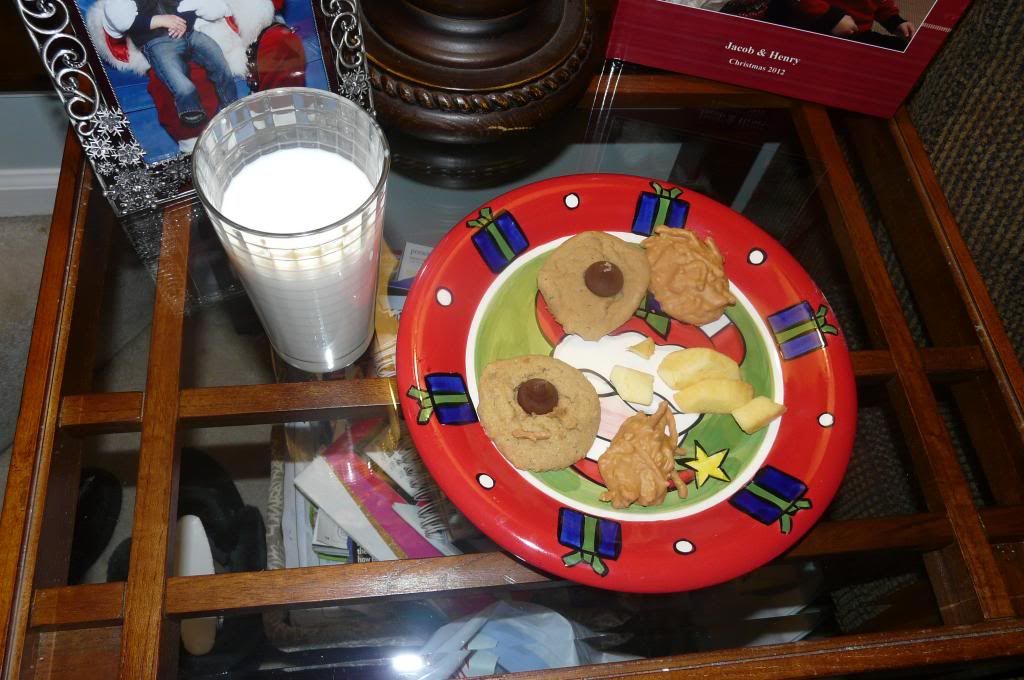 Then, we got the kids in bed and waited for Santa. Here are some pictures from after Santa came to our house!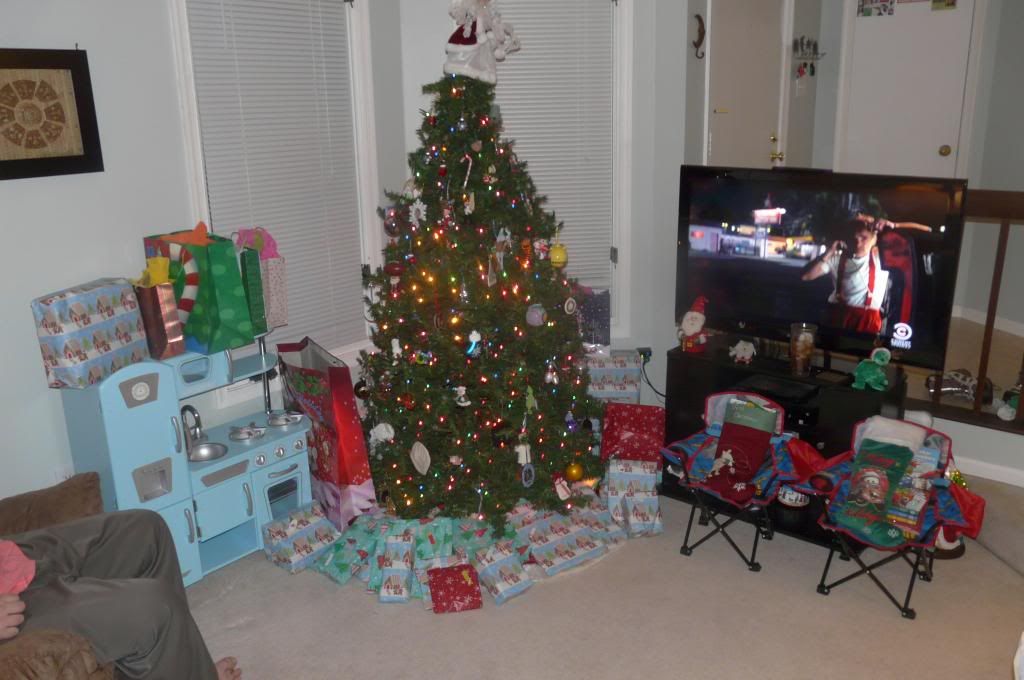 At around 3 AM Jacob woke up crying (he's been fighting a cold/flu thing for a few days), so I got him resettled in bed, and then I went back to sleep myself. So, because of that wake up in the middle of the night, he slept in until 9ish. Once both the kids were up and awake, we headed down to check out what Santa brought! Jacob tore open most of his stuff pretty fast this year, but Henry took some time. It was still so cute and heart-warming to watch them opening presents, and to see the joy on their little faces. It makes me so incredibly thankful that we're able to provide that for them.
The Joker Fun House he's been wanting that goes with his Batcave he got last year for Christmas. He was pretty excited about this one!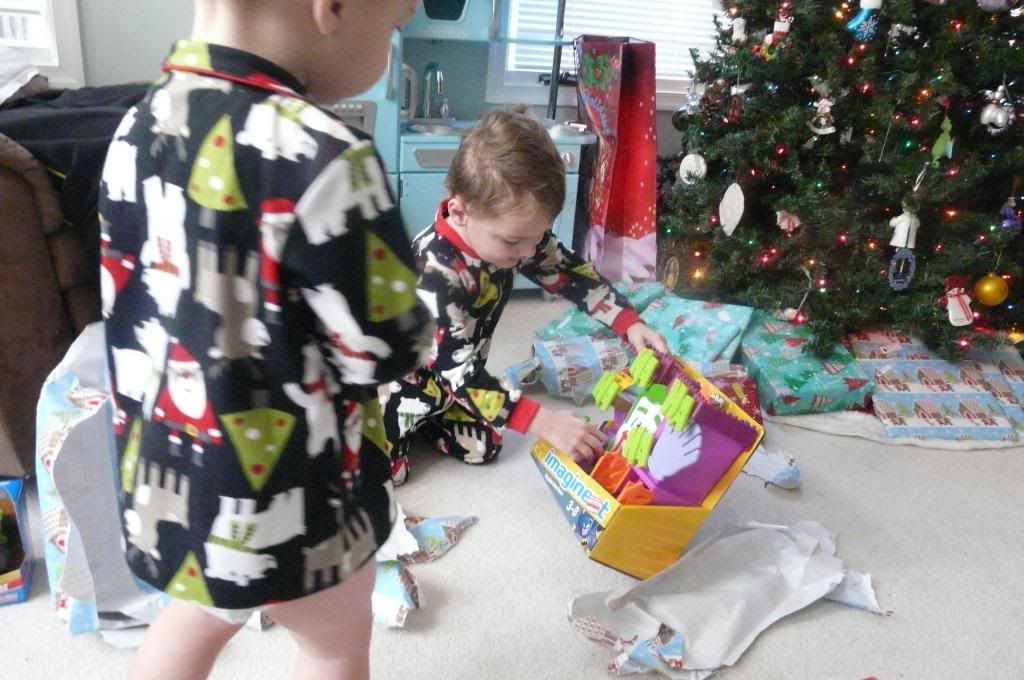 As usual the kids were incredibly spoiled. We got them a really nice wooden kitchen by Kidkraft. That was their big gift. Then they got an assortment of puzzles, books, Little People and Melissa and Doug toys. My parents came later in the day and brought a HUGE truckload of stuff. We were thoroughly spoiled!! John got me the Uggs I've been wanting for a few years now, plus another pair of boots. My Uggs are brown, but the other pair is black and by Timberland. So, I can wear those out in the snow with the kids, and the Uggs are for more dressy wear. He also got me some stuff from The Body Shop and this beautiful wind-up snow globe from the boys (it's engraved with "momma" too). I got John a Burberry cologe gift set he'd been wanting, but would never buy for himself, and his new tattoo he got earlier in the month was the other part of his gift. My parents got us both new coats. We both needed new ones badly and they're are SO warm. I don't think I've ever owned a winter coat that was THIS warm. Ever. And, I got some new pieces to add to my village and this really cool, really big Santa to add to my collection. He's almost as tall as Jacob.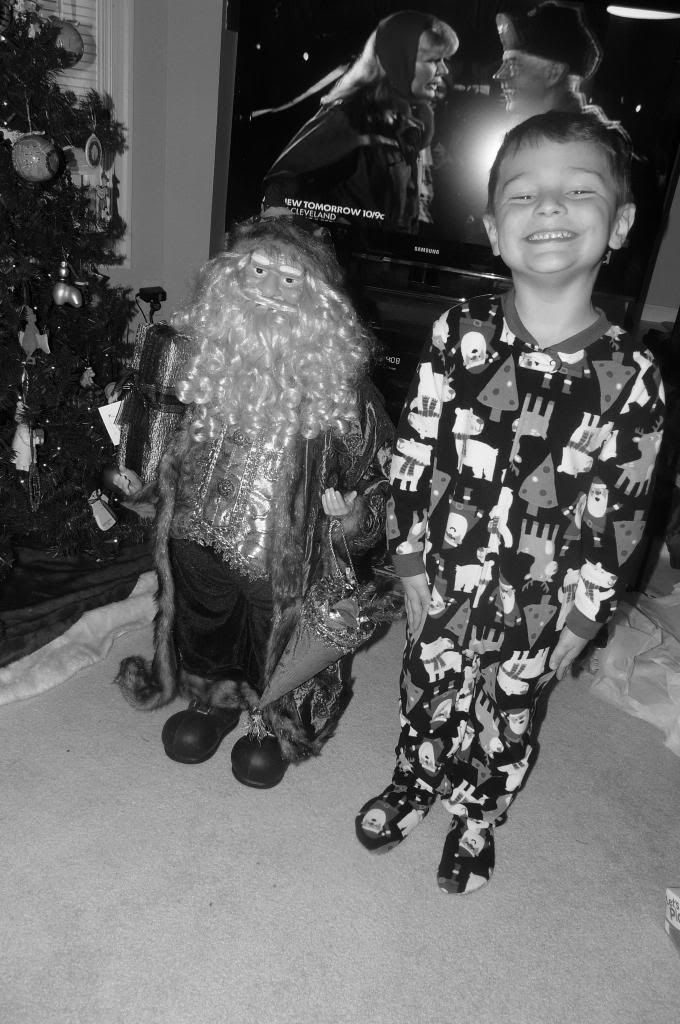 We spent the rest of the day playing with their new toys and having a really yummy dinner. I even used my fine china I've never been able to use before! Despite the grief our family is going through right now, we had a really great day, and for that I'm incredibly thankful! From our family to yours, we hope you all had a very Merry Christmas!