A good friend gave me this recipe and I absolutely love it! I've only had the recipe since the beginning of October and we've already made it twice. The ingredients are kind of pricey, but you can get quite a few meals out of one batch, so in my opinion it's still worth the initial price. I manage to get about 4 meals from one batch, and you can freeze it. That was one of my questions, with it being seafood, "can it be frozen?", and I'm here to say, that, YES .. it can be frozen. All you have to do to thaw it out is take it out either the night before or the morning you want to serve it and leave it sit on the counter to thaw. If you're taking it out the night before, I'd put it in the fridge to thaw out just to be on the safe side. Then when reheating, put it in a pot and slowly reheat on the lowest setting possible, stirring constantly.
Shrimp Chowder
5 (10 oz) cans of condensed potato soup
50 oz of whole milk (or, 2% - in other words, 5 potato soup cans full)
1 (16 oz) can of corn
1 bunch of green onions (I omit this ingredient because hubby doesn't like onions)
1-2 cloves of minced garlic (I put in a little extra cause we love garlic!)
5 tbsp of butter
1 (10-20 oz) bag of frozen shrimp (My friend gets the smaller shrimp, but I've yet to find them at our store, so I just buy whatever is on sale and then chop them up into smaller pieces)
2 tsp of red pepper, or to taste
3 (8 oz) packages of cream cheese
Directions:
Melt butter in a large stock pot.
Saute garlic & green onion until light brown.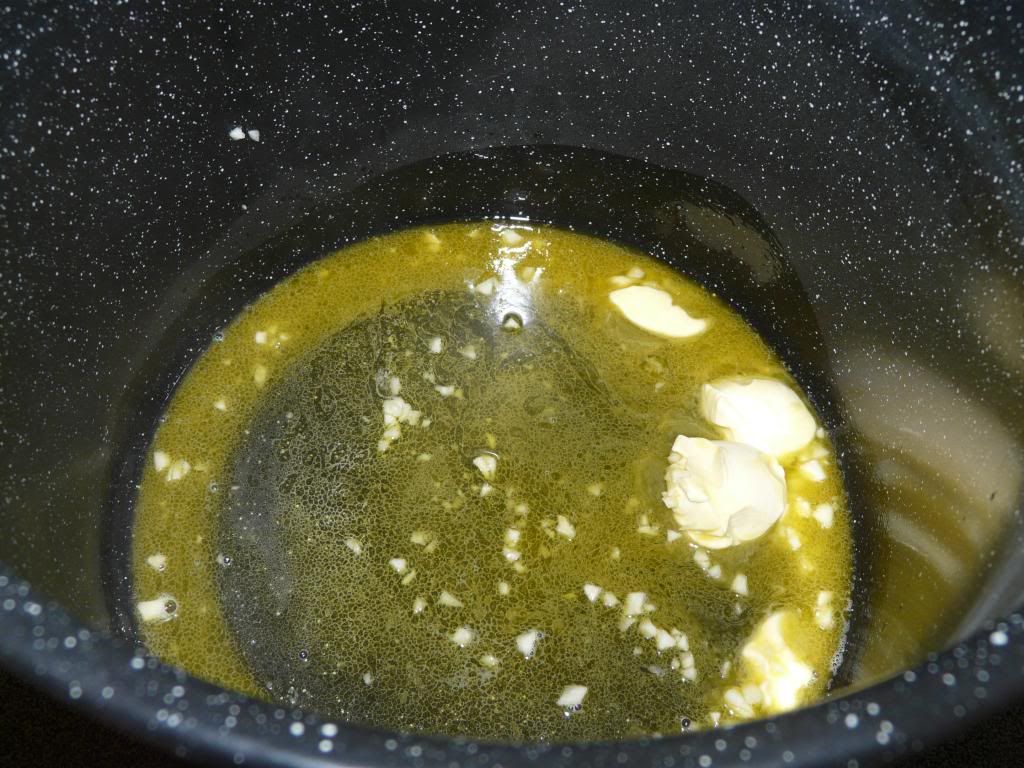 Add red pepper.
Add all 5 cans of potato soup (and save 1 empty can for the milk). Turn the heat down to a simmer.
Add 1/2 of the milk.
In a large bowl, combine the other 1/2 of the milk and the cream cheese & soften this mixture in the microwave until milk is warm and the cream cheese begins to melt.
Meanwhile, rinse the frozen shrimp under cold water to thaw, cleaning any dark spots, veins & drain.
Break up the now softened cream cheese into small bits & add to soup pot.
Add whole can of UNDRAINED corn to pot.
Add shrimp.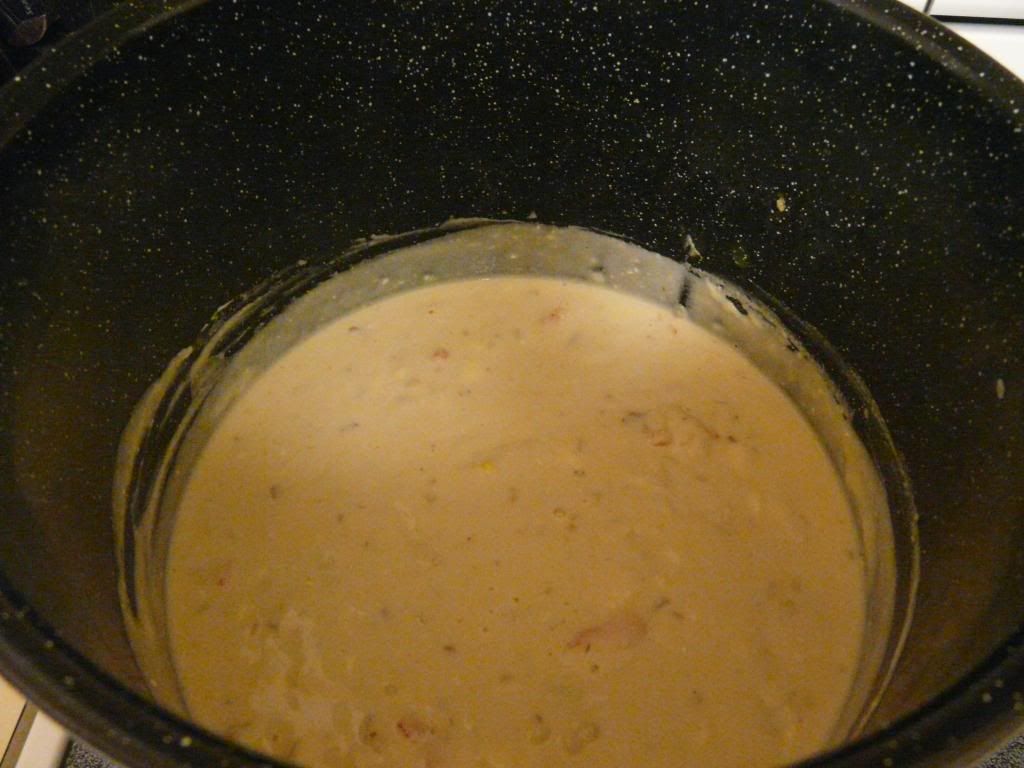 Do not boil. Soup is best when heated slowly and gently. This would be a good crockpot meal, I'm just home all day, so I've never done it that way, plus my crockpot isn't big enough to fit all of this. I use a stockpot.
Tips:
You can use an electric mixer to help break up the cream cheese, but don't let it get frothy. And, make sure you break it up. It doesn't not just fall apart with the heat.
Add an extra can of corn if you like.
Add other seafood! I made this last week and added crab meat. It was so yummy!! It would probably be good with scallops too, but I don't like them, so we'll never have those. lol
And, finally ... serve with whatever yummy dinner rolls you have on hand to help cut down on some of the heat of the soup (it will have a kick from the red pepper).