I think my husband is really starting to enjoy all the recipes I've been trying! :)
I found this
recipe
on pinterest awhile back, but haven't really had the time to make it. It's very similar to a Bang, Bang Shrimp dish that I get a lot at Wegman's on their Asian buffet. It's amaaaazing! I will caution you that it's time consuming, so just beware you will have a fair amount of prep work to do, but it's soooo worth it in the end!
1 lb. medium shrimp, peeled and deveined
3 green onions, chopped (optional)
For the sauce:
1/2 cup mayonnaise
4-5 teaspoons chili garlic sauce, such as Sriracha sauce
1 teaspoon granulated sugar
1 teaspoon rice vinegar
For the egg mixture:
For the breading mixture:
1/2 cup all-purpose flour
1/2 cup panko breadcrumbs
1 teaspoon salt
1/2 teaspoon ground black pepper
1/4 teaspoon garlic powder
1/4 teaspoon dried basil
For frying:
8 to 12 cups vegetable oil
Instructions:
Combine all ingredients for the sauce in a small bowl; cover and set aside.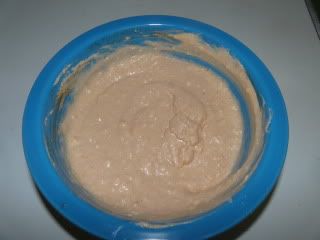 Combine beaten egg with milk in shallow bowl; set aside.
Combine flour, panko, salt, black pepper, garlic powder, and basil in another shallow bowl; set aside.
Bread the shrimp by first coating each with the breading mixture. Dip breaded shrimp into the egg and milk mixture, and then back into the breading. Arrange the coated shrimp on a plate and pop them into the fridge for at least 20 minutes. This step will help the breading to stick on the shrimp when they are frying.
Heat oil in deep fryer to 350 degrees F. Use amount of oil required by your fryer. (we were afraid the breading would fall off the shrimp or they would clump together in the deep fryer, so we (John) fried them in a skillet on the oven)
When all shrimp has been fried, drop the shrimp into a large bowl. Spoon about 1/4 cup of sauce over shrimp and stir gently to coat.
I served ours over rice (I had brown rice, John had white rice) with the chopped green onions on top, but this would be an excellent appetizer, too!

Note: All my recipes posted on my blog are how *I* made them. So, they're the original recipe slightly tweaked to fit how my family likes their food. Somewhere (usually at the beginning) in the post I have linked to the original recipe, so feel free to check it out as well and decide which you like the best ... or better yet, create your own version!