This recipe was given to me by the boys' babysitter, but I'm pretty sure the original recipe came from pinterest also. (Have I mentioned before how much I looooove pinterest?!?!?!) :) They taste just like the biscuits you can get at Red Lobster and they're super easy to make!
Biscuits:
2 1/2 C Bisquick
4 tbsp cold butter
1 C cheddar cheese, shredded
3/4 C milk
1/4 tsp garlic powder
Butter Glaze:
3 tbsp butter
1/2 tsp garlic powder
3/4 tsp dried parsley flakes
Preheat oven to 400 degrees. Lightly grease or line one cookie sheet with parchment paper; set aside.
Combine Bisquick with cold butter in a medium bowl using a pastry cutter (I just used 2 forks). Don't worry about mixing too thoroughly; there will be small chunks of butter in the mix about the size of peas. Add cheddar cheese, milk and garlic powder. Mix by hand until combined, but don't over mix.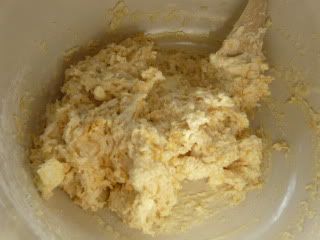 Drop 1/4 cup portions of the dough onto th elightly greased or parchment lined cookie sheet. Bake for 13-15 minutes in preheated oven until the tops of the biscuits begin to turn light brown.
While the biscuits are baking, melt butter in a small bowl in the microwave. Stir in garlic powder and dried parsley flakes. Use a brush to spread the garlic butter over the tops of all the biscuits. Sprinkle a little kosher salt on the freshly coated biscuits. Makes one dozen.