I know I'm a little late getting around to blogging about our Easter, but I hope everyone had an awesome holiday, nonetheless. :)
We were in Pennsylvania over Easter this year for our nephew's birthday. It was so nice to just get out of town, relax and visit with friends and family. The last time we were up there was over New Year's and I had my unfortunate fall where I sprained both ankles. :-/ Thankfully this trip was completely uneventful in that department!
Friday evening the boys and I met my sister and brother-in-law in the Waterfront for dinner. Prior to seeing them this night I can't remember when the last time I saw them. :( I was supposed to meet up with them over New Year's, but I had just fallen and couldn't even walk. I hate that we don't get to see each other often, so I just try to make the most of what time we do have together. Anyway, we met at Longhorn for dinner (and of course I didn't remember to take any pictures :-/). It started off rather rough because Jacob was in a mood and didn't want to get out of the car. He threw a massive tantrum in the parking lot and I honestly didn't think we'd ever even get to eat. But, thankfully he eventually calmed down enough that we were able to have a really nice dinner together. :) While we were at dinner, John had his night out with his friends that he always has while were in PA.
Saturday was Josh's birthday party. It was at a hotel in Irwin that has this really cool, small waterpark on the inside. Looking at the hotel from the front you would NEVER expect it to have two water slides and a small pool inside, plus a little area set up for birthday parties. They certainly had me fooled! Henry was ready to go the second he got his swimming trunks on. That little guy LOVES him some water. I call him my water baby. LOL I spent Friday and Saturday morning going to three different stores looking for a raft for him to sit in, so we wouldn't have to hold him the whole time, but instead that little booger just wanted to jump off the sides of the pool in to someone, or kick his feet and "swim" around. He's a complete 180 from the way Jacob used to be in the water when he was his age.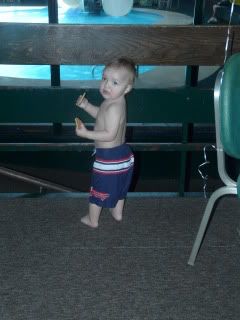 Jacob surprised me, though ... he went down both water slides (one pretty tall one and one shorter one) all by himself! He still wears water wings, but he's starting to really get into swimming now, which I love, since we spend a LOT of time at the pool in the summer.
After they were done swimming, we had pizza, soda and cake, and got to watch Josh open all his birthday presents. All the kids really seemed to have an amazing time ... I'm so glad we were able to be a part of his special day. :)
Saturday evening the kids spent the night with John's parents, and we went out to see Titanic 3D and spent the night at a hotel where it was ... silent. Probably a little too silent for my liking. I'm used to the noise and I missed my guys, but it was nice spending some quality alone time with my hubby, and of course I got to see one of my favorite movies of all time in 3D. :)
On Sunday morning when we got back to John's parents' house, the kids had a small Easter egg hunt and they got to open their Easter bags the Easter bunny left. They each got a new Disney movie and a pair of summer PJs. When we got home to VA later that day, they had another Easter egg hunt at our house and they got to open their baskets the Easter bunny left for them. Jacob's basket was filled with art supplies, some candy and a new Cars puzzle. Henry's was filled with bathtime toys/soaps and cereal bars (he's just too young for candy!). We had a nice Easter dinner with my parents and visited the rest of the day.
We had a really great holiday, and I hope you all did too!!