November 4, 2012
Today, in honor and memory of my baby sister, I'm thankful that I had the privilege of being a sibling, a SISTER, for the short 29 years that I did.
I wasn't always the best sister, but I loved her no matter what, and I know she loved me just as much. Ashlee had one of the biggest hearts of anyone I've ever known. She was always looking for the good in people even if they were treating her badly. She rarely got mad at anyone and if she did, she never held a grudge.
One of the great things about having a sibling is that you have a built-in lifelong best friend. That's what Ashlee was for me. Our relationship may have grown apart some as we grew in to adults, but she was, and will remain, my first best friend. She's the only person in the entire world that knows all of what we went through as children and knows how it felt to go through everything that we did.
Today would have been Ashlee's 30th birthday. It's hard to believe that just three weeks ago we were talking about her birthday and how she was going to be 30. I don't think she was super excited about that milestone, but I was excited for her as she would be joining me in the 30-club.
The past few days the anxiety that I've been feeling had multiplied a LOT. Friday night I barely slept that's how bad it was. I know it was because deep down I was dreading today. I didn't know how I was going to make it through the day. It was the strangest thing ... this morning when I woke up and got out of bed, I had this odd, but nice, peace about me. My mind and heart both felt at ease. No anxiety, whatsoever. It was so odd, especially since I've been feeling anxiety since the day Ashlee died, but whatever ... I'll take it! So, all day I pretty much just felt like my old normal self. I was happy because it was my sister's birthday and I thought about her all day. This evening, though, the anxiety returned, but I was still happy to feel so good for even just a short time. I know that was Ashlee working in my heart and mind to let me be at ease if only for a few hours. That's our Ashlee .. always looking out for everyone else. :)
We never got to celebrate that birthday with her, but we still celebrated FOR her today. My parents came over around 2 this afternoon, and we Skyped with Mike, my brother-in-law. We blew up 30 balloons and let them go in our side yard. I hope Ashlee was able to see them from Heaven, and I hope she knows just how much we love and miss her.
Happy 30th birthday, Ash! I hope you're eating all the cake you want today ... there is no "point-counting" in Heaven. :)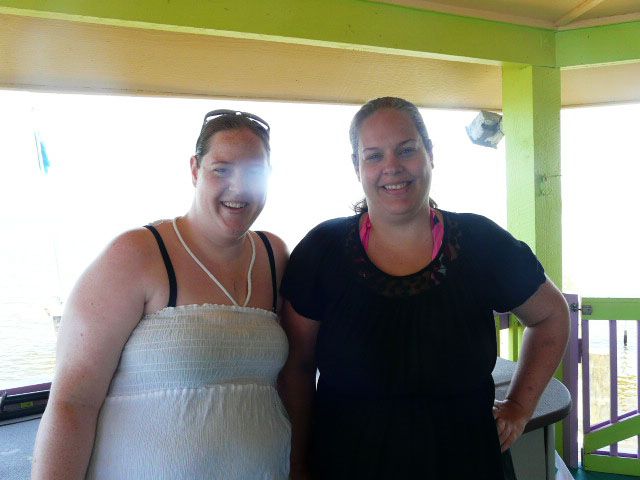 (Last summer, 2011, in the Outer Banks)