I've been having a lot of cravings lately for seafood soups, so I went on a hunt for a few different types. I found a really good and easy recipe for Crab and Corn Chowder, so decided we'd have a seafood night with the chowder and hush puppies as our meal. It was so yummy!!! The original recipe can be viewed
here
. I made a few adjustments to it, which I will note throughout the recipe, but the biggest one was that I added chopped up lobster as well. Double YUM!
Crab & Lobster Corn Chowder
1 russet potato, peeled and cubed
5 slices bacon, diced
* 2 tsp garlic powder
1 can (6 oz) crab meat, drained
2 lobster tails, chopped
1/2 tsp parsley flakes
2 tbsp butter
1/3 C all-purpose flour
1 cube chicken bouillon
1 1/2 C milk
1 (15 oz) can creamed corn
salt and pepper to taste
1. Wrap potato cubes in plastic wrap and microwave for 30 seconds. Set aside.
2. In a saute pan, cook bacon over medium heat until heated through and add garlic powder. Cook and stir. Stir in crab meat and parsley flakes. Set aside.
3. Meanwhile, melt butter in a large stock pot over low heat. Whisk in flour until mixture becomes creamy and takes on a eggshell color. Continue to cook for a few more minutes, stirring occassionally. Dissolve chicken bouillon in milk; when the flour mixture is crumbly, slowly whisk in milk. Mix well in order to eliminate all lumps.
4. When the mixture is creamy and hot, stir in bacon mixture, cubed potatoes and creamed corn. Season with salt and pepper to taste and simmer for 10 minutes.
Note: I didn't use the dry white wine, so I omitted it in the recipe above. I think next time I'll try it with it, though. Might make a difference. :)
Hush Puppies
My friend, Stephanie, shared this recipe with me and we loved them! The original recipe can be viewed
here.
2 eggs, beaten
1/2 C white sugar
* 1 tsp. garlic powder
1 C self-rising flour
1 C self-rising cornmeal
1 quart oil for frying
1. In a medium bowl, mix together eggs, sugar and onion. Blend in flour and cornmeal.
2. Heat 2 inches of oil to 365 degrees F (185 degrees C). Drop batter by rounded teaspoonfuls in hot oil, and fry until golden brown. Cook in small batches to maintain oil temperature. Drain briefly on paper towels. Serve hot.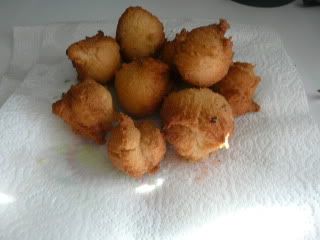 * means that I substituted this item in place of something in the original recipe.
Here is the finished product ....
We had french bread with it ... I highly recommend the Pillsbury French Bread Loaf in the refrigerator section at the grocery store. So good!