I've been wanting to make this for a while now, but just never seem to have the time to do it. It went over really well and made LOTS of leftovers. You can add pretty much whatever you want. It just depends on what you like. This is just what *I* decided to use.
1 lb ground beef, browned
6-8 medium potatoes, peeled and cut in half
1 can yellow whole kernel corn, drained
2 pkg brown gravy
1 cup grated cheddar cheese
Milk
Worcesterchire sauce
Emeril's Essence seasoning
Accent
Garlic Powder
salt to taste
Brown the ground beef in a skillet, season with worcestershire sauce, Emeril's Essence seasoning and accent. Drain and set aside.
Peel and boil the potatoes, drain, mash with a potato masher, add a little bit of milk until you get the consistencey you like and set aside.
Follow the directions on the package of gravy, set aside.
In a casserole dish, arrange everything in layers. The first layer is the ground beef, next is the can of corn (drained), then the gravy. Sprinkle the gravy with a little bit of garlic powder, then add the mashed potatoes, and finally sprinkle with the shredded cheese.
Bake on 350 for 10-12 minutes. Serves 10 people.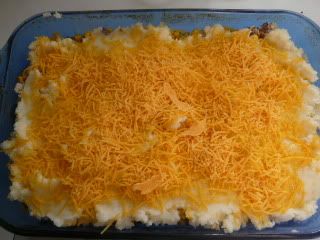 Here is what it looks like before it goes into be baked. (Don't mind the dish - it's not dirty, just some crap is caked into the glass.)
Finished product!
And here is a look at what the layers look like.
John and I both loved it so much we had seconds! Jacob is a picky eater most of the time, so you can't really go off of him, but he did eat a little bit. This is definitely something we'll have again!!